Read what customers are saying about Ruby Mae Jewelry:
Regarding Ruby Mae Jewelry Workshops
"Thank you so much, great time!" @2016isyours
"It was a fun evening, can't wait to do it again"@inherpeace_alisliving
"Thanks for the super fun & creative night last night, we can't wait to have you back" @greentablemercantile
"I would definitely take your class again" @gjhatt
"Awesome class Leah" @dyesore31
"Thanks for the class last night" Melanie C.
Referring to Jewelry: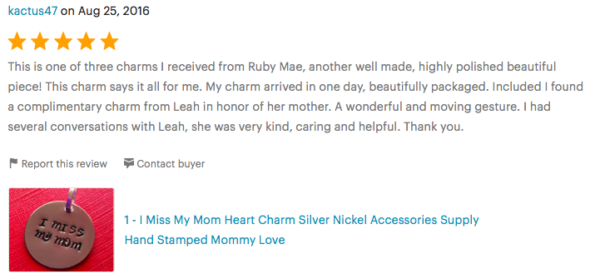 ————————————————————————————————————————–
Thank you very much Leah, and to my dear cousin; Leslie. I just opened my present (and) have been moved by tears. Truly one of the most thoughtful Birthday presents I've ever received. I will cherish it always.
Thank you, Love, Sara-Lou ? , Aurora, Colorado
It's even more beautiful in person Leah!!!! A big big big thank you again…I'm also going to wear my bracelet with the little cat with sunglasses!!! It matches great??????
Sharon E., Mesa, Arizona
Sharing:from an anonymous friend I sent these to, whose husband passed away unexpectedly from an aneurysm last month. I told her to please find someone to put that pearl on her necklace.
<3 Thank you Ruby Mae Jewelry for your touching and perfect gift for which I wish there didn't need to be one.
——————->
The other day I received a gift in the mail. Three necklaces, for the three girls. They all look like this.
Beautiful and simple.
A hole in the heart. And a simple pearl.
A Godwink.
Years ago, while Eric and I were still dating, we were at one of the nephew's elementary school baseball games. We were standing along the foul line with some family and friends watching the game, kicking around the dust. Eric notices something and bends down to pick it up.
It's this pearl bead in the picture.
Probably broken off a child's necklace, old, and even older now.
He puts it into the palm of my hand, laughs, and says, "don't ever tell me I didn't give you anything."
We had a good laugh.
I'm not sure why I kept it. But here it is.
I found it in an old jewelry box this morning. I was purposefully looking for it, knowing I still had it.
It's the little things, the little moments, those insignificant moments that I miss most.
Make the most of yours.
One day someone is going to be thinking and crying and smiling over your insignificant little moments, too.
Cheryl S., Phoenix, Arizona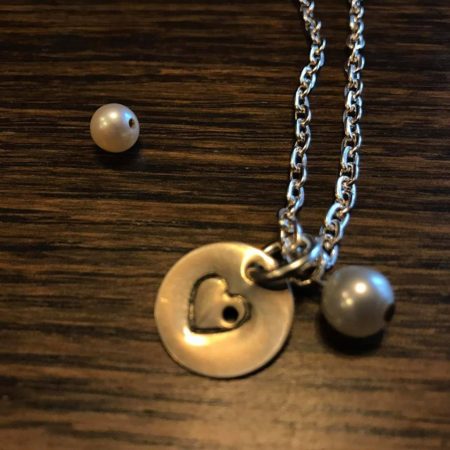 I just received my Starbuck's Bracelet made by Leah. It is absolutely beautiful! I love the quality and how it flows on my wrist. I have received multiple compliments in the past 24 hours! Leah is a DREAM to deal with! I recommend her shop highly! INDY GIRL
Marjorie N., Indianapolis, Indiana
I gave this cute bracelet to my sister in law Jackie for her birthday! She loves it!
Marjorie N., Indianapolis, Indiana
Your craftsmanship speaks volumes about your passion.  My pleasure to share your love around Ohio!
Kris P., Aurora, Ohio
Hi Leah, I received my package today an was very surprised..You are a gem!!! I love the earrings an plan on wearing them on Christmas..I can't believe that you sent me back the postage an added a couple of charms…I will treasure them an your generosity…My hubby will enjoy his Starbuck charm, I am sure..Again thank your Dad!  Merry Christmas an a Happy and Healthy New Year!  Hope to do business with you again..
Carole S., Prescott Valley, Arizona
Oh my goodness!!! The bracelet arrived today and it is amazing! I absolutely love it!!!❤️ All your attention to detail is fabulous! I already have it on today and have had a compliment. I will enjoy wearing it this month in celebration of the INDY 500 but will be able to wear it all year long! THANK YOU! Marj Neal INDY GIRLss
Marjorie N., Indianapolis, Indiana
I REC'VD MY NECKLACE TODAY! Thank you so much! I even put my LOVE charm in between my heart & pearl charm. It's beautiful! Thank you so much!
Lynne M., Phoenix, Arizona
I hope you are having a nice Sunday.  The key chain you created for my friend Kathy arrived yesterday.  I love it, along with the special box, card in memory of your mom and the Eiffel Tower charm.  You truly went above and beyond.  Thank you.
Terry S., Eden Prairie, Minnesota
They loved them. (5 personalized key chains) They turned out perfect. I might be wanting to get more key chains in a month or two for work. Planning ahead for the holidays.
Raquel S., Chandler, Arizona
I got my package yesterday. I love it. I wore it last night when I went out to dinner. My friends loved it also. And thank you for the extra goodies. ? Keep me posted on how to follow your blog about your trip. Have fun and safe travels.
Kim C., Cave Creek, Arizona
I had a package in my mailbox and I am wearing my new necklace — I absolutely love it — your work is incredible.
Claire H., Mesa, Arizona
Hi Leah
I received the bracelets and earrings yesterday. They are perfect!! You and your family have such talent. Thanks again my girls are going to love them. Oh and thanks for the cute little charm for me.
Lorie H., Casa Grande, Arizona
I enjoyed this book! (Dimes Were Hard To Come By – ebook) Wonderful story that takes you back to a different time…..told in a down to earth manner with a great sense of humor! Thanks so much for sharing your parents' story!
Lisa W., Ruther Glen, VA
Leah,
I got my bracelet. I love it. Thank you so much
Kim H., Clearwater, Kansas
I received the necklaces and absolutely love them!  I'm bummed I won't be in Florida to see my sister and best friend's faces when they open their gifts.  Thank you again for creating them for me.  I love your work and I am proud to support a local business owner.
PS.. Please thank you Dad as well
Nancy F., Tempe, Arizona
Hi Leah,
I got the package today. They are absolutely beautiful. It is going to be hard to hide them until Christmas. Thank you so  much for such a beautiful job! You are awesome!
Tammy M., Poway, California
Facebook comment regarding her "For Shawna" bracelet, "Oh my God, it was the BEST birthday present!!! Thank you SO much! I absolutely loved it!!!! 🙂 "
Shawna B., Gilbert, Arizona
From Elise's mom to my client Deb: "Elise loves her key chain- looked it up online 🙂 very impressive :)"
"Aunt Debbie! I love love love the keychain. It's super cute! Thank you so much! 🙂 It's such a unique gift. Love it!"
Dallas S., Red Bluff, California
"Received the package today!  It's all fantastic, thanks.  Shared the pics with my family and they are excited too! Appreciate it so much!"
Belinda C., DuQiun, IL
"I truly love my bracelet! Thank you so much. Please let your Dad know as well."
Tori G., Springville, Utah
"Hi Leah! I LOVE my jewelry!! So creative and perfect. What a great Christmas gift between you and my mom. You continue to amaze me over and over and I have know you since 5th grade! I love that you are promoting cancer awareness. Your mother and grandmother are beaming down on you from heaven. Love you my friend!"
Andrea W., Pinetop, Arizona
"I love my earrings."
Aimee H, Chandler, Arizona
"I got my "Starbucks Chick" necklace for Christmas!! It's sooo cute! Loved all your special touches too! You're awesome."
Sheri Diane Y-D., Palmdale, California
"Hello! My sister Laura bought the green bracelet called "The Beth" and I just wanted to tell you how much I love it! Thank you so much for making it . It is a gift I will treasure. Happy holidays."
Beth K., Arizona
"I LOVE the necklace I purchased from you and I get compliments every time I wear it."
Angela G., Avondale, Arizona
"Hello, I just wanted to share with you that I gifted the bracelet I purchased from you to my friend Danielle. She loves it and wore it when we went out! thank you so much."
Tanja M., Casa Grande, Arizona
"Love the bracelet! I keep looking at it and everything has a beautiful meaning. Leah and Rog thanks for putting this special bracelet together. Brought a few tears of joy. Love you all."
Jan J., Fayetville, North Carolina
"Getting a Ruby Mae Jewelry envelope in the mail is about the BEST gift a girl can give herself – or anyone special in her life! I was that lucky girl today! Thank you."
Tana M., Silverdale, WA
"You are one of the sweetest human beings around! I got a little something in the mail today……absolutely LOVE them. Thank you, thank you, thank you!"
Tana M., Silverdale, WA
"Friend! Luv Luv Luv it!!! Thank you so much. I feel very cool saying I have my own personal jewelry designer." 🙂
Tori G., Springville, UT
"On behalf of my wife and daughter, I would like to thank you for the jewelry.  They love them!  I wish you could have seen the expression on my daughter's face when I told her the hair clips were hers to keep.  Wow!"
Bruce D., Denver, CO
"I LOVE IT! It's perfect. Thank you!"
Debbie V., Phoenix, AZ
"My button bobby pins arrived in the mail Friday and I've worn them every day for the last three days! All three, all at once, every day."
Kessina Lee, Portland, OR
"Leah worked magic with the buttons I sent to her.  She created a necklace matching the exact personality and style of my aunt using the buttons from her father's favorite sweater. My aunt cried when she opened the box and said she was "beyond surprised." Thank you, Ruby Mae Jewelry, for allowing me to give my aunt a reminder of her dad."
April L. – Portland, OR
"Just saw your jewelry at CoCo Milanos in Mesa! love it and bought some. I'm a Stage 3, 14 years survivor and Thank you!"
Christine P., Mesa, AZ
"Leah, my good friend, Pamela Evans just gave me a bracelet for my birthday that was made by you. I LOVE IT!!!You make beautiful pieces! My daughter is just getting into jewelry making so I'm going to share your website with her. Thanks so much"
Lesli K., Gilbert, AZ
"I looooove my bracelet! I thought it was awesome in the picture, but in person it's even more amazing!! I can't stop looking at it. Also, my flower earrings… totally adorable! Thank you SO much!! It was a pleasure to meet you Leah!"
Sheri D., Palmdale, California
"Leah, I recieved my bracelet today, and it is so beautiful. I love the name of your business and that it comes from your mother & grandmother's names!!"
Andrea G., Austin, Texas
My sister-in-law cried when she opened her lovely bracelet on Saturday. It means so much to her — she even remembers some of the buttons from her grandmother's blouse. Thank you for making such a special moment happen! (It never hurts to score a few points with the in-laws.)
Rayetta N., Peoria, Arizona
"Unique, playful & a fashion statement. I love wearing my Ruby Mae creation."
Michelle B., Palmdale, California
"Thank you Leah for taking an idea and turning it into an expression of my love for Carol. I gave you only a charm and a story and you created a piece that is absolutely beautiful."
Kay D., Gilbert,  Arizona
"Lovin my new bracelet!!! Thank you!!"
Shelbi B., Gilbert, Arizona
"Leah-I can't thank you enought for this-it's stunning and I'm sure my mom will love it! Inside the locket is a picture of my 31 year old son as a baby."
– Cindy J., Gilbert, Arizona
"My bracelet has arrived….love it. I am wearing it to work today so I can show it off."
Debe S., Lubbock, Texas
"Loved the bracelet you showed in honor of your mother. What a treasure you have brought to her legacy through this talent of yours."
April S., Mesa, AZ
"I love my bracelet and get lots of compliments every time I wear it. I love how you are giving new life to old treasures."
Denise C., Gilbert, Arizona
"I love my bracelet!!!! It is so neat–thank you very much!! I will be on the lookout for more buttons etc. You do a great job."
Peaches, Mesa, Arizona
"Luv, luv, luv my bracelet. I wore it out shopping with my cute lil neice up in Salt Lake. Thanks a ton."
Tori G., Provo, Utah
"My mom & Mil loved them! Thank you"
September G., Tempe, Arizona
"I love, love, love, love, love my bracelet(s)! It's totally awesome!!!!!!! Thank you again and an extra thanks for the add on. You are so talented. P.S. My grandmother, Beatrice, would love it too"
Lynn B, Chandler, Arizona
"I LOVE my bracelet! Thank you soooo much".
Norma B., Eloy, AZ