Description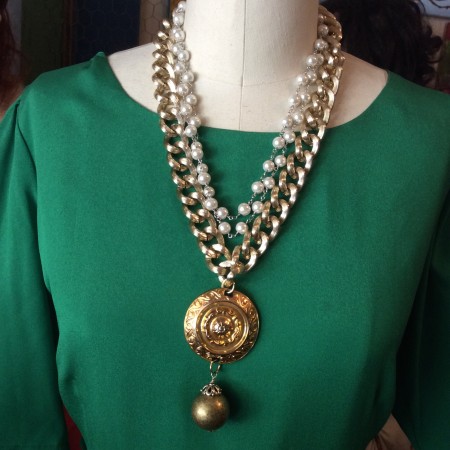 Wow! Golden Girl is a unique one-of-a-kind necklace. This piece is definitely for the adventurous woman who likes to stand out with her jewelry.
The large closure allows for easy clasping. The hand stamped Ruby Mae charm was created by my dad Jake. The thick gold tone aluminum chain is lightweight & comfy to wear. The large clasp & closure balance the weight of the centerpiece.
Like most of my jewelry pieces the pearl chains, clasp, gold chain and jump rings are brand new but the centerpiece is not.
The pendant length is 4 inches and the total length of the necklace and pendant is 32 inches.
This piece ships in a hand sewn cloth travel pouch, next day via 1st class USPS. It will be named after you on my rubymaejewelry.com website gallery.
Ships US $6.75 , Europe & Canada $16.85
If you buy more than one item I will adjust the shipping and issue a partial refund. (At this time my website doesn't have the option for combined shipping and I'm sorry about that.)