Description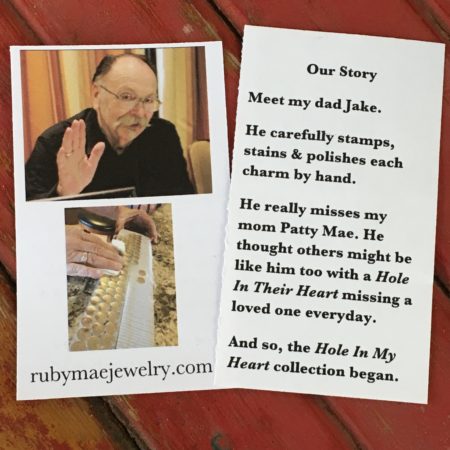 Do you have a hole in your heart because you are missing a loved one?
This item was created by my dad Jake who misses my mom Patty Mae. He hand stamps, stains & polishes each one by hand.  He thought there might be more people like him who have a hole in their heart.
The red brass charm Hole In My Heart charm measures 1/2″ across .
The chain is 18′ and is 14k gold filled.
***These charms are handmade and this is a stock photo. The actual charm may have heart placed slightly higher on the disc or hole on the left side of the heart. Just like our own hearts, they are perfectly imperfect.
Ships with a small polishing cloth, next business day 1st Class USPS Mail US $3, Europe & Canada $13.85
Photo is stock picture & disc might have slight variations
*If multiple items are purchased the shipping will be adjusted and a partial refund given via PayPal.