July 25th, 2015 dad & I headed north to the big skies of Montana. 18 days…4400 miles… 10 beds… 9 homes visited… First stop Laughlin, AZ and then Utah to see my friend Tori. I'm hoping to find cool buttons and treasures along the way.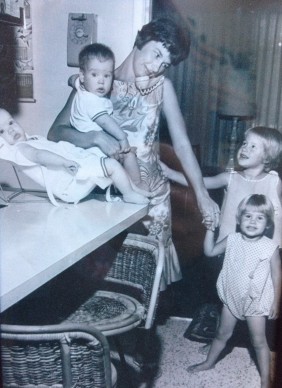 Springville, Utah

This photo is of Tori's Mom Lori, back in the day, juggling motherhood. I think it looks iconic. I love it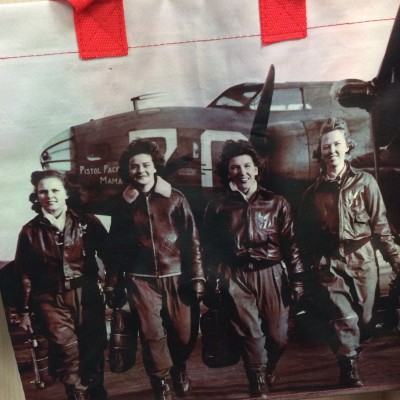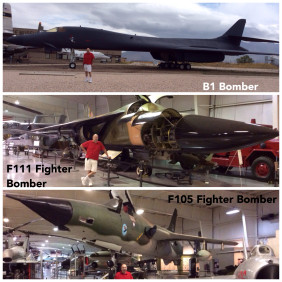 Hillsdale, AF Museum, Salt Lake, Utah

Talk about some badass women… gotta love their confidence. Back then women flew the planes from the manufacturers to the US airbases…a lot in Montana. The men flew them to Alaska & the Russians picked them up from there. Dad stands near jets he worked or trained on during his career.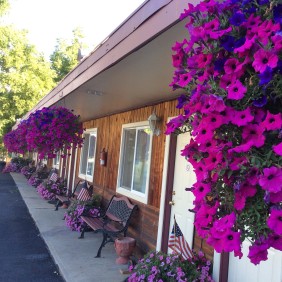 The Dew Duck Inn in Plains, MT … the cutest little motel ever!
Fortine, Montana
This golf course in Fortine is gorgeous? This school bus converted into a green house … genius.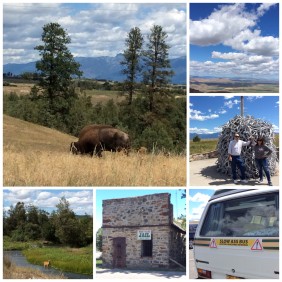 Paradise Montana

Hi lights from our day … Uncle Del took us thru the Bison Range … his lil town of Paradise doesn't have a jail & this is the old one … lots of wildlife … beautiful hanging flowers everywhere & friendly people. The German gal driving this VW bus was even laughing at her sticker.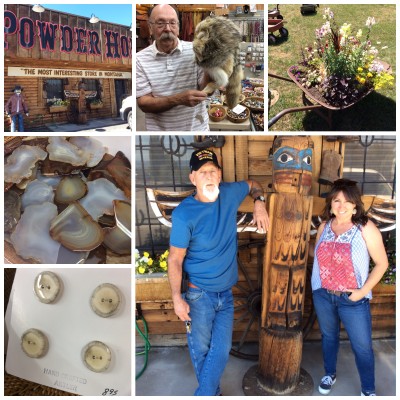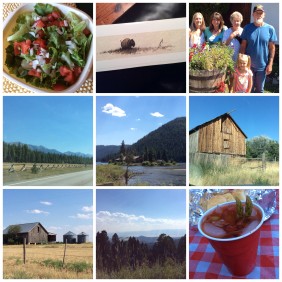 '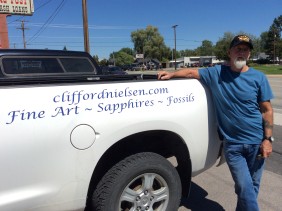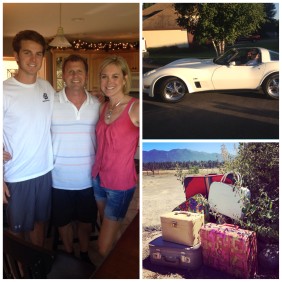 Kalispell, Montana
We had a great tour guide in my cousin Clifford. First stop, the Powder Horn. Cynthia's salad w/ items she grew … artwork gifted to dad & I by my talented cousin Clifford … cliffordnielson.com …Dad & I hit a garage sale where I found all of these cool vintage suitcases. Not shown is my vintage faux blue leather gym bag perfect for a blow dryer & curling iron. Larry & Nancy & Logan took me to Hops, a tiny & very cool place and yak & boar burgers are on the menu. The boar was really good. Larry took me for a spin in his 1980's Corvette.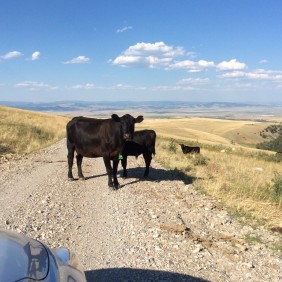 On the back road to White Sulphur Springs from Kalispell we saw these cows,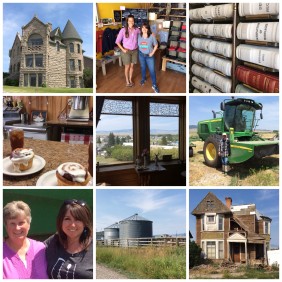 White Sulphur Springs Montana, my mom Patty Mae's hometown
Aunt Carol, (moms sister) and I set out for the Castle that was once an apartment and my
mom & her family lived in for a year. They had the whole upper floor. It has since been converted into a museum. We stopped in at Red Ant Pants & I met the owner Sarah who also organizes a yearly musical festival that was just last weekend. I saw the courthouse records where Aunt Carol used to work and we had cinnamon rolls in honor of mom at Dina's Cafe. The view is from the inside of the Castle and that's Uncle Rick & his swather. I think silos are cool and that home is under construction.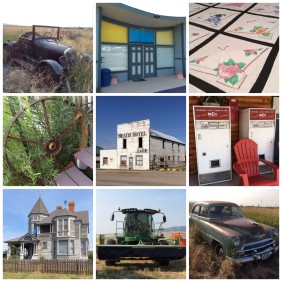 White Sulphur Springs Montana is home to 800 and another 1800 live in the county. My moms Dad was Eldon & this was his 1927 Model T. His brother Al drove the 1951 Chevy – bottom right… it never left the county … it has beautiful upholstery under the blankets. The butterfly quilt is made of women's ha
nkies and the Munster looking house just looks cool. The Heath Hotel is in Martinsdale.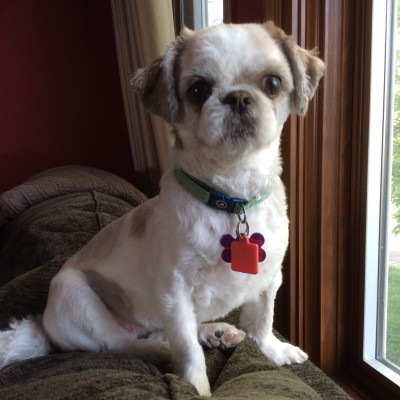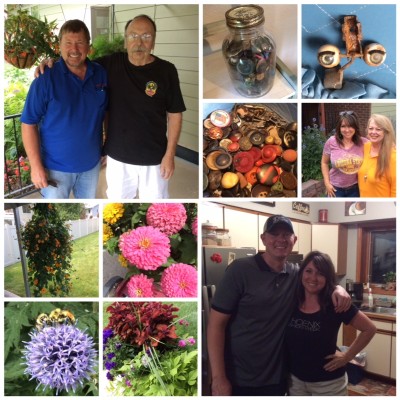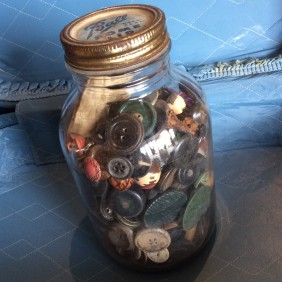 Billings, MT
What fun in Billings Montana. The skies parted & I heard angels singing when my cousin Brian gave me this jar of buttons he found in an old barn awhile back. Love the jar & everything inside…even the creepy doll eyes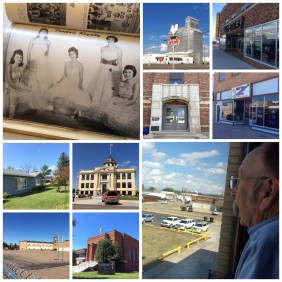 Sidney, MT
Visiting my Dads hometown of Sidney was emotional for us. Mom lived there a few different times before she was 20. I retraced my parents teenage years with the help of my dad. Mom was football royalty (bottom right), dad worked at the grainery when he was 11 picking up spilled grain, they used to cut thru JCPennys in the winter time, those doors lead into their high school, 2 Blondes used to be the five & dime she worked at, the updated blue house used to be her parents, that's the courthouse and looking out the 2nd floor at Yellowstone Bank – it used to be Safeway & dad worked there at 19 making .65 an hour. The basketball court is all that correctly remains from their grade school. There used to be a house next to the court & Dad found a pair if pliers at age 11 that he still uses today. Lastly, the Methodist church where they were married at 19.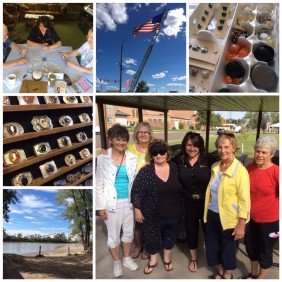 At my Dad's high school reuni0n, I learned more about my mom by meeting her friends…some she knew and grew up with out in the country. Talk about a fun group of women. They quickly told me that I look and sound like my mom which caused instant crying on my end. I was a mess. They sweetly hugged me and told me fun stories. It was wonderful to meet them. My Aunt Darlene & Uncle Cliff enjoy playing Kings in the Corner and at 95, I'm sure he's got to be one of the oldest living WW2 vets in Montana. The flag was raised by the fire truck at the county fair and those are my Aunt Darlene's buttons. I had to get myself a Montana Moss Agate belt buckle in Savage and the shady spot under the tree, next to the Yellowstone River is where my folks would park and share their day.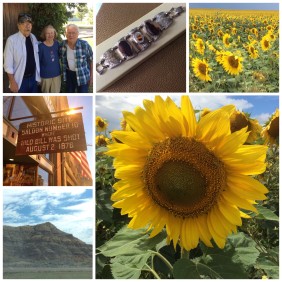 We left my Aunt Darlene & Uncle Cliff & headed to Deadwood, South Dakota. We saw some of the Badlands, (bottom left), you can't farm it or ranch it. So fun to see the massive sunflower fields … the 1940's agate bracelet w/ center locket was given to me by Aunt Darlene's neighbor Terry. It was his grandmother Effie's who moved to Montana from Missouri a long time ago. Sturges was cool… we just drove thru it … the area around Deadwood is absolutely gorgeous and it's a fun little tourist town.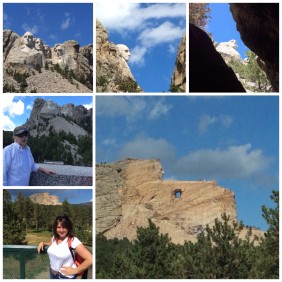 Mount Rushmore & Crazy Horse, South Dakota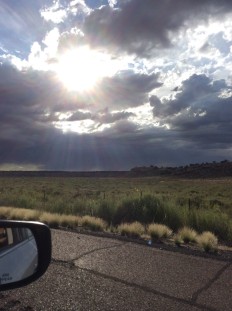 Pointed home to Gilbert, Arizona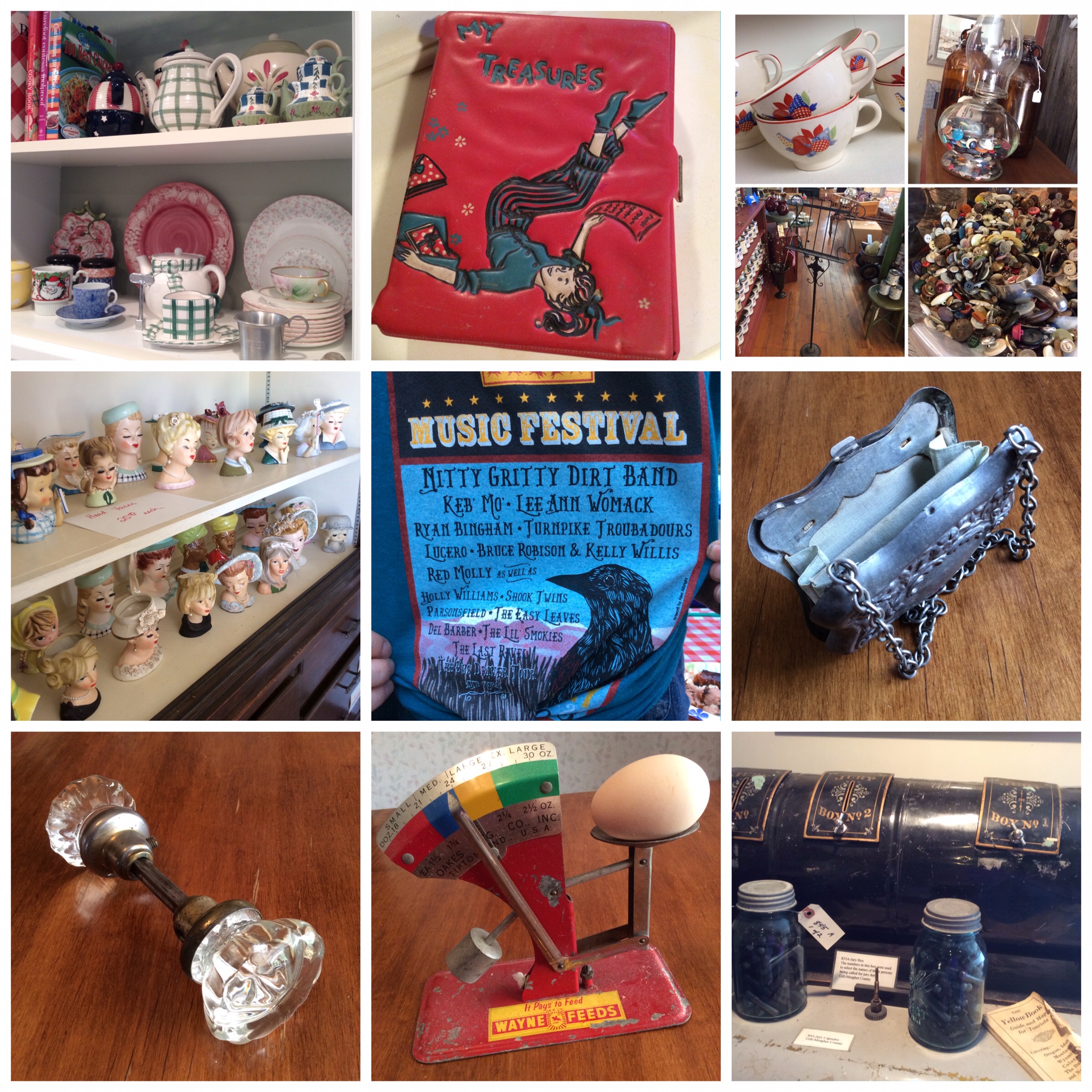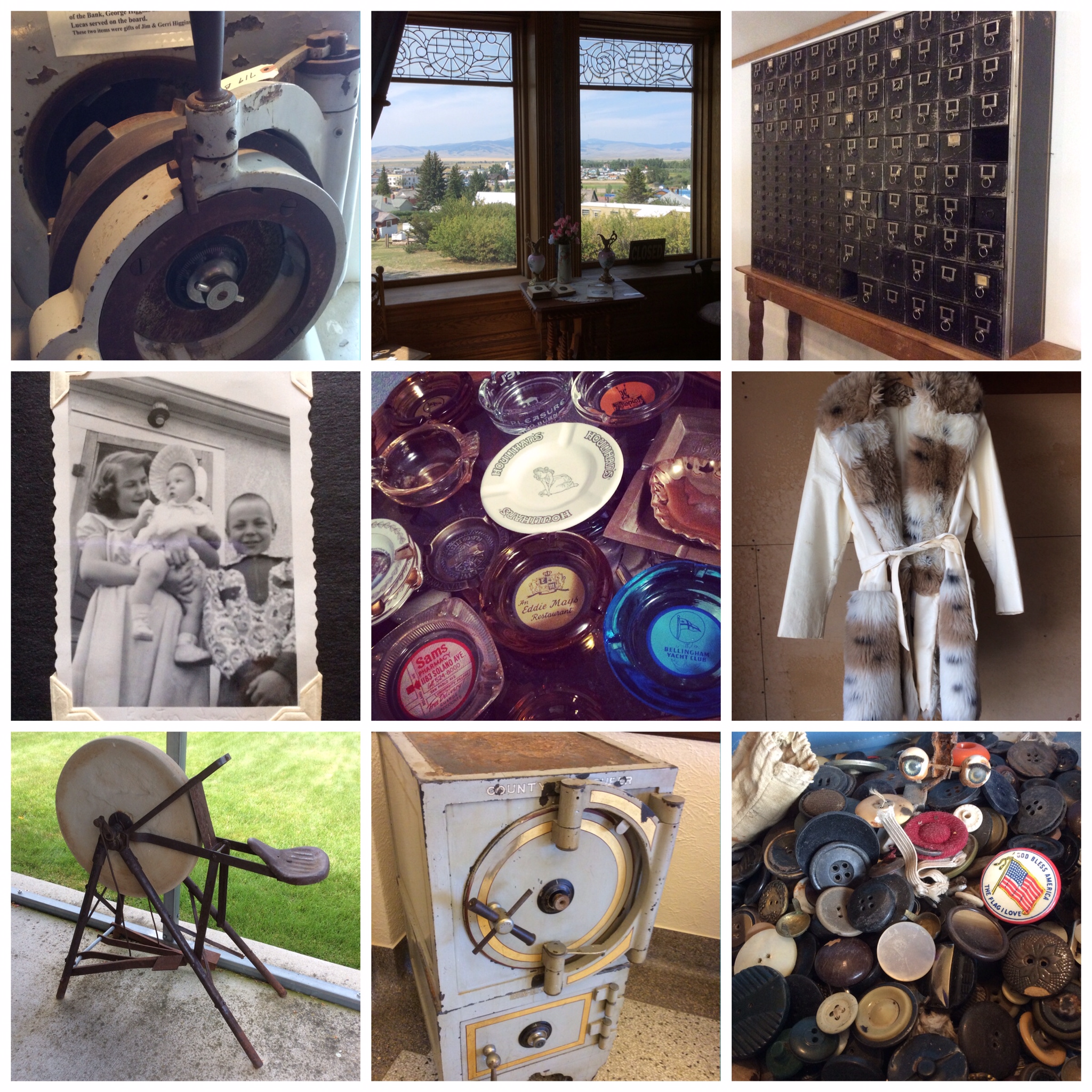 Treasures I admired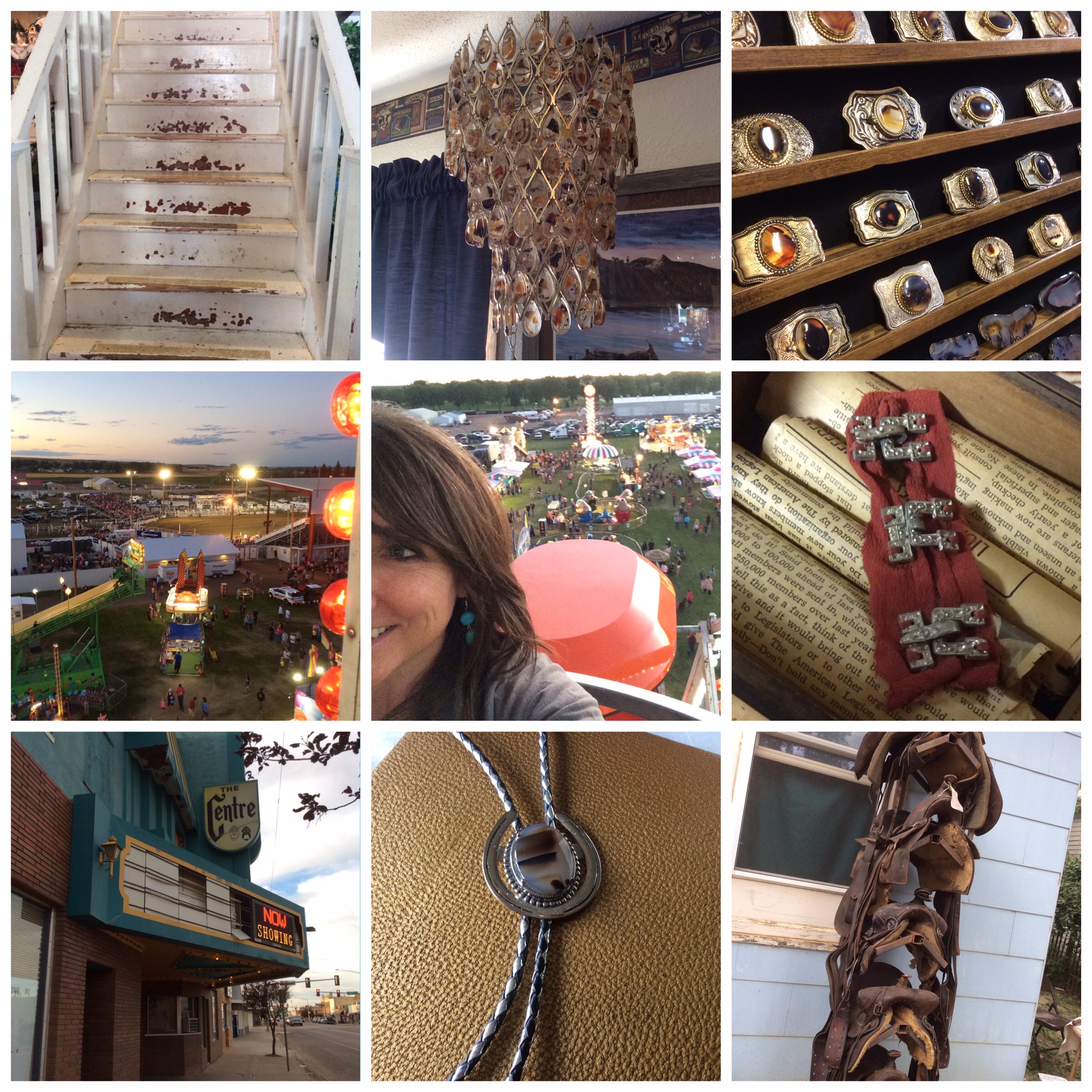 Some places I went including Richland County Fair, Salvation Army Sale in a very old house, top left, theater my parents went to and Harmon Agates shop in Savage, MT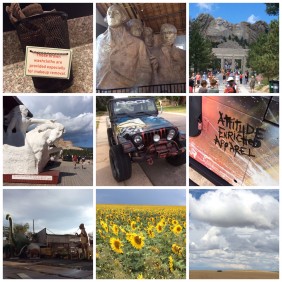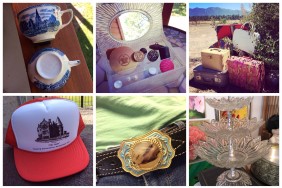 More places we saw & some treasures I bought myself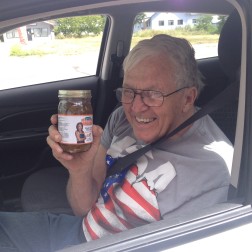 We gave out jars of
Help From Hayley
cooking sauces to all of our hosts. we hope they love them.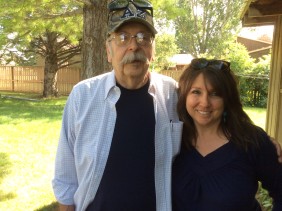 I know this was a once in a lifetime trip.
We seized the opportunity and I'm so glad we did.
It was wonderful. I highly recommend it.
xo, Leah